Wedding ceremonies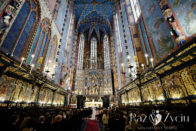 A civil, religious or symbolic wedding? Or maybe a vow renewal?
No matter what type of ceremony you have in mind, this will be the most solemn and emotional moment of the day. You need a suitable location and the right set up – a presentable officiant, with knowledge of foreign languages, a script which contains all the necessary elements but isn't overwhelming, but also the right chairs, decorations, music or PA system.
Each type of ceremony has a certain characteristic and its' own limitations. We will advise on what's possible and what's worth having. We will make sure your Guests are included and that all elements match in harmony.