Outdoor celebrations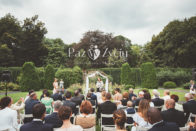 An open air ceremony or reception is a dream of many 
so many in fact, that together with the Polish Association of Wedding Planners, we have actively fought for a legislative change which now allows civil ceremonies in beautiful locations of the couples' choice, also outdoors. And Poland has beautiful sceneries to offer….
The weather in our country is as unpredictable as it gets though, so there is a lot more planning and organising involved in open air celebrations. Marquees, tents, floors to cover the soggy ground, usually also additional PA systems, lighting, sometimes power supply or a catering area – just to name a few services that need handling when planning such an event. There's no reason why you should worry about all this, if you can get help of experienced professionals.
From choosing the perfect location, through obtaining required permits, up to overseeing the set up on the day, we're there for you every step of the way. An extra pair (or two) of fingers crossed for the dream weather also can't hurt!