Music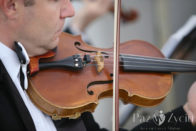 Whether it's a live band or a DJ that sounds best to youwe'll recommend the best people to make sure your Guests will be dancing until early morning hours. We'll guarantee knowledge of English or other languages, don't be concerned about communication issues or too much Polish music your Guests wouldn't be able to enjoy.
For a pleasant atmosphere during dinner, let us suggest a string quartet, a jazz trio or a pianist.
For the perfectly romantic wedding ceremony, let's have it illustrated by the angelic voice of a sopranist, delicate sounds of a violin or a loud male choir.