Lighting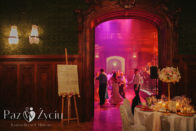 A modern wedding decoration can't go without the right lighting.
A few years back there were hardly any vendors in Poland, now we can choose from a multitude of offers. Fairy lights, light bulbs, LED, PAR, moving head, gobo…. We'll help explain and understand, as well as pick those solutions, which will most elegantly underline the style of your venue and of your party.
The photos and videos benefit greatly from nice light, and the party mood is so much better with it, at a relatively low cost.