Attire and accessories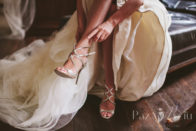 Every little girl dreams of being a beautiful bride, don't we? And every husband remembers the moment he first saw his bride in the gorgeous dress she'd picked just for him. By no means can the assembling of your wedding attire be left to chance. We'll guide you through recommendable stores around the city, we'll offer advice if you're unsure about what design to pick, we'll tell you where to go if you prefer to let your unique dress or suit be tailor-made.
Prices of wedding attire in Poland are very competitive – usually you can buy it, wear it and take it home with you to sell with profit.