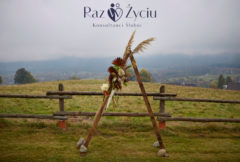 The romantic anniversary of Kasia and Andy's mountain wedding was planned since the very wedding ceremony. Back then, the Couple decided to elope, but they already knew they would invite their families to the same location to celebrate the anniversary.
Therefore, we wanted both events to have a connection, but at the same time they shouldn't be repetitive. We decorated the mountain hut in a similar boho style, although the dreamcatchers were now replaced by pampas grass. We hung up a few magnified photos of the wedding, attached to stylish wooden boards. As now we had guests present, we needed to plan for more food and seating, but we also prepared mountain cookies and a mountain themed wedding cake, just like a year ago. Once again a folk band offered musical background, again a herd of sheep came across, but in order to provide guests more activities, we also prepared a few garden games.
Unfortunately we weren't wrong assuming that we had already exploited all the weather related good luck last year. Even though this time was much colder and a bit humid, the atmosphere by the fire was very warm and the mountains showed through the clouds every now and then. 
It was a great pleasure to be able to arrange and style this event. Continuously we wish Kasia and Andy a wonderful life together and we encourage everyone to organise unusual celebrations, regardless of how few people would be participating.