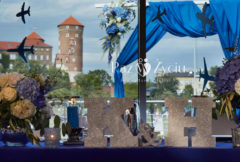 The wedding of Kasia and Hemant pursued the theme of travels, which are both Newlyweds' passion. The theme was mostly reflected in form of planes hanging as a backdrop behind the Bride and Groom, serving as place cards on the tables or placed on the wedding cake. The invitations resembled passports and indeed the guests came from very distant countries, including India.
The Couple put great attention to detail, hoping to emphasize the best both cultures have to offer. For example, a lot of effort was put into combining the perfect menu, including both Polish oscypki and Indian chana masala or paneer. On the dancefloor, we had both the polonaise and a Bollywood routine performed by a professional dancer. Shortly before the wedding, we decided to move the ceremony from church to the venue's garden with castle views and during the emotional service the groom sung his love to Kasia. After dark, we experienced a second ceremony, involing fire, special garlands, Indian music and dances. For that part of the night, Kasia and Hemant changed into Indian outfits.
The lead colour of the wedding was sky blue, the Couple decided to use table cloths in that colour, which dramatically transformed the room and made the colour really stand out. Despite many logistical challenges, including the beautiful baby being born along the way, we find this one a very successful wedding and Kasia and Hemant's happy smiles will stay in our memory for long. We wish them this joy and so much love every day.