The proposal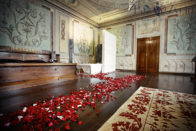 Looking for the perfect scenery to pop the question? Try Krakow.
Full of legends and romantic hideaways. Be creative and replace he Eiffel Tower or Venetian gondolas with the view of the Wawel Hill, the top of the Kosciuszko Mound, the old-fashioned atmosphere of the Jewish district (Kazimierz) or our unique Main Market Square.
Krakow offers the perfect setting for proposals in the air, on the ground or in subterranean cellars and corridors. Krakow's tourism is constantly growing and the city is responding – discover the recently opened beach on the Vistula river bank, a pedestrian bridge with padlocks attached by lovers and more.
We'll help you find accommodation in Krakow, write a scenario of the big day and even pick the ring. By hiring us you make sure everything's taken care of while you can explore the city with your girlfriend instead of making her suspicious with your nervous behaviour. We can also provide a photo or video footage of the big moment. Believe us, you'll want to relive the moment when she said "yes"!