Planning a perfect wedding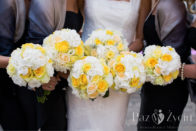 First the list of guests and a preliminary budget. Then invitations, the gift registry and a guest book…. Stay calm, we'll make sure nothing gets forgotten and all the items match and contribute to a perfectly organised wedding.
Let us work together on the wedding theme, the colour scheme, matching attractions, joining traditions, establishing a perfect timeline for the day… The plan is to leave the enjoyable decision making and excitement to you, whereas we take care of the organisational hassle.