Cake and sweets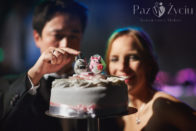 To the surprise of many, a Polish wedding cake is actually meant to be eaten.
The Newlywed Couple cutting the wedding cake is one of the most important moments of every reception party. However, traditions vary from country to country when it comes to the flavour and decoration of the cake.
Polish cakes are light and fluffy, based on mouthwatering sponge cake. Let us invite you to a tasting and demonstrate that a cake like this will be one more thing to remember for your Guests. Let's then discuss the design of the cake, our talented patissiers can make even the craziest requests come true.The symbol of your sweet future together should be exactly as you had imagined it to be.