Beauty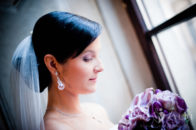 On your most important day, you want to be the most beautiful Bride ever.
Being far away from home usually means your trusted hairdresser is far away and you feel insecure about who to rely on.
Let us arrange trial hairdos for you until you're sure the perfect styling will be achieved on the wedding day. We'll recommend a professional make-up artist who will come to your hotel to take care of your makeover, but also that of your bridesmaids, mother and friends if necessary.
If you have a few more days to spend in Krakow before the wedding, we'll offer you beauty packages including relaxing massages, manicure and pedicure, spa treatments and other treats to make you look stunning. Grooms are welcome too.