Reception venues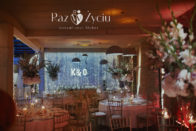 Your reception has to take place in the most perfect scenery you can imagine
After all, you've travelled a long way and so have all your Guests – closest friends and relatives.
Let us know about your preferences, we'll pick the right locations, check on their availability and provide you all the information you need to make your decision.
If possible, we'll drive you to all the places you would like to see personally. If you won't be able to arrive in Krakow soon and time is getting short, we'll send you pictures, videos and any other info you shall need in order to make the decision from home.
The Krakow area offers some unique venues – restored manor houses, palaces, castles… Let us impress you!