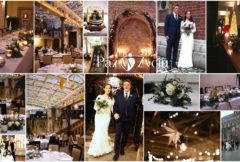 Hannah and Sam knew from the beginning that their wedding must be held in Krakow.
The bride's grandmother is Polish and at a wedding the Polish language was heard very often, especially in the traditional chant "gorzko, gorzko", although most of the guests came from Great Britain.
For a long time we were looking for an interesting place for the ceremony, but finally it took place at the reception venue, in the historic cellars, which was particularly convenient for the guests.
The colors of the wedding were navy blue and gold. At the central point of the ceremony there was an arch of flowers and branches, as well as a lot of candles and romantic, warm lighting.
The Bridesmaids wore beautiful, long navy blue dresses with matching bouquets. And the flower girls wore navy blue blouses and stylish tulle skirts, and wreaths in their hair. The bride looked beautiful in a romantic dress, with a tiny photo of her Mother that was attached to the bouquet.
The ceiling of the reception venue was decorated with golden and white stars and cords of decorative bulbs. The tables were dominated by lanterns surrounded by a wreath of flowers. There were also Christmas trees in various forms.
It was very romantic, festive and atmospheric.
Despite the December winter weather, a photo shoot took place in the Market Square.
The parents greeted the Groom and the Bride with bread and salt, when the guests tossed floral confetti and lit sparklers. After breaking the glasses, according to Polish tradition, the Young Couple sweeped off the broken glass.
During the speeches there were many emotions, there was also a time of reflection.
After a delicious dinner, the party moved to the cellars, where the Young Couple cut wedding cake with oreo cookies and opened the dance floor together with their parents.
The Guests had a wonderful time on the dance floor, using the photo booth, or writing marriage advice for the Bride and Groom.
Hannah and Sam, thank you very much, we could share joy and happiness with you. We wish you beautiful moments and lots of love.