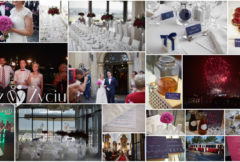 Jola and Markus wanted to have a beautiful wedding, but they had no plan for a colour scheme or theme. Together we were looking for ideas and solutions, effectively creating an elegant and tasteful, yet vibrant and cheerful colour scheme, joining the noble navy blue with saturated fuchsia. The right custom made stationery set was enough to completely transform the character of the room and the tables. The stationery appeared in many locations, including buffets or the photobooth, which made the overall effect even more impressive, yet not overwhelming.
The highlight of the evening was certainly the Newlyweds' first dance, meticulously practiced during long training sessions, spectacularly performed in impressive smoke and with a lot of grace. This was by far not the only attraction though, only to mention a few: an exceptional Guest book, a photobooth out in the open, with a panorama of Wawel and the Main Square as a backdrop, an aisle of sparklers with the cake cutting, home made tinctures, even an impressive firework show.
Even the short journey from the church to the reception was exceptional, on an old-fashioned tram with atmospheric music and comfy sofas, surely a ride to remember. We faced a special challenge as Jola and Markus were very dedicated to catering to all special dietary requirements of their Guests, including very unusual and restrictive ones, and not just for the main meals, but also when it comes to sweets. With the help of two specialist bakeries we were eventually able to deliver.
It was a pleasure to see the Newlyweds smile all night. A sweet little elk, which they gave us as a souvenir of this Polish-Swedish wedding, will always remind us of them. We wish Jola and Markus a wonderful life together and for all their wishes to come true.